Laurence Bacon, B Sc, MIEx, FCIT, FILT, CPC Int'l

Managing Director, Export Bureaux

Contact Export Bureaux or see below for further details.

Laurence is a former Director of the National Committee of the International Chamber of Commerce (ICC), where he founded the Irish Committee on Banking Techniques and Practice and regularly attends meetings of the ICC Banking Commission worldwide. He has represented Ireland at these meetings. He is also co-founder of the Irish Committee on Customs & Trade.

Laurence is a speaker/panellist at many international conferences including the American Institute of International Banking Law & Practice (IIBLP) conference. His Banking experience in Letter of Credit Depts. is coupled with over 30 years experience in major importing/exporting companies. When advising Banks and exporters/importers, this places him in the unique position of being able to use first-hand experience gained in both areas.

In addition to being a member of the Institute of Export, he is a past Trade Representative to the Irish Customs Consultative Committee and Examiner for the Institute of International Trade of Ireland.

Laurence was the Technical Editor/main content developer for DC-PRO, the web-based multimedia training package in partnership with the ICC in Paris designed to teach students of letters of credit online.

For many years Laurence has been involved in lecturing on various topics within international trade including documentary credits and export documentation & procedures in several European countries, including Associate Professor to several universities. He has also provided in-house training and consultancy in international banking and export-related areas. Clients have included major international banks, "Top 100 Exporter" companies and a Top 5 Accountancy firm known worldwide.

As a long-term member of the ICC Banking Commission, and recognised worldwide as an eminent expert in the field, Laurence is the only person from Ireland to be appointed by the ICC as a member of the small but worldwide UCP Consulting Group which worked on the revision of the rules relating to LC's (UCP 600).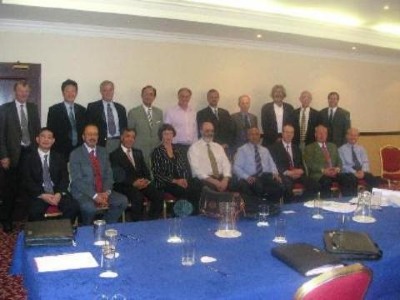 UCP 600 Consulting Group

Please use the form below or email enquiries to sales@exportbureaux.com

Phone +353 (0) 879687533